Viva la U.R.S.S. 1937
Photomontage and ink drawing
61 x 91 cm.
2017
In the year 1937, during the Spanish Civil War, the Association of Friends of the Soviet Union held a tribute in Madrid on the occasion of the 20th anniversary of the October Bolshevik Revolution. With the authorization and support of the republican municipal government, the Puerta de Alcalá was adorned with portraits of Soviet leaders Maksim Litvínov, Stalin and Marshal Kliment Voroshílov, whose faces were suspended from the three arches of the monument. In addition, the coat of arms of the Soviet Union was placed over the Royal inscription of Carlos III and a banner with the phrase "Viva la U.R.S.S." was posted.

On the occasion of the centenary of the October Revolution of 1917, a group exhibition was organized at "October Center of Contemporary Culture" in Valencia. My proposal was specifically conceived to celebrate this anniversary. It consists of an appropriation of that historical act through a photomontage that proposes a similar public intervention in its same location. It is about rescuing an event from the past to transfer it to the current context, in such a way that it acquires a different meaning. Today, 80 years later, this image makes us question how it would be unlikely and censored that a project of this nature would obtain the official consent for its realization.
——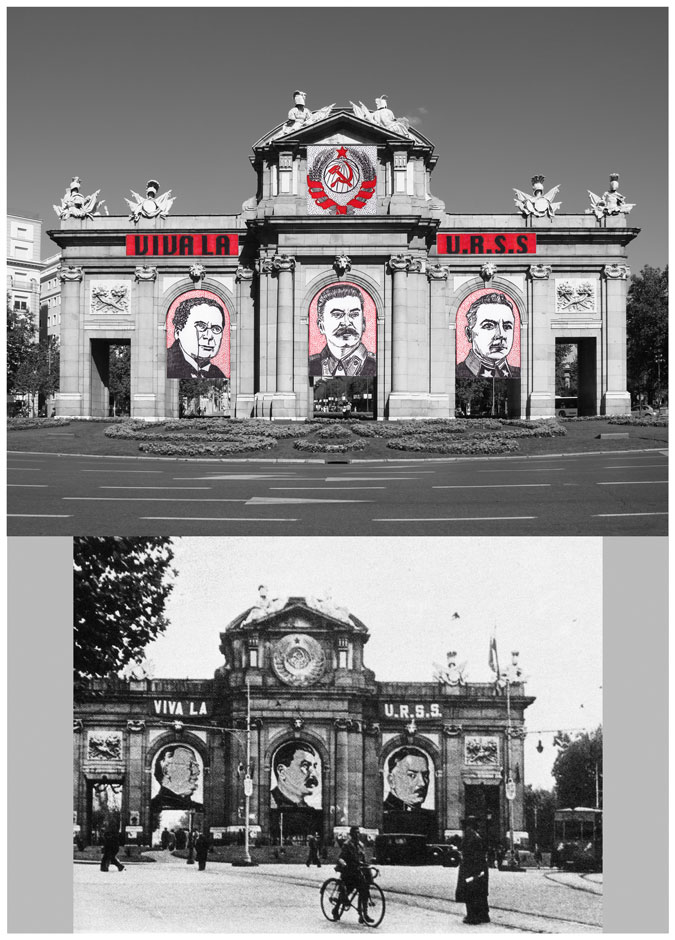 ——